John P. Swift, CFA, CPA Chief Investment Officer
312-259-9595 or jswift@trustbenchmark.com
April 6, 2020
The Sentiment switch flipped back on this morning.
This trading week will be a shortened one as the market will be closed Friday in observance of Good Friday. It is open today, however, and it is shaping up to be a good Monday.
The futures for the major indices are sharply higher, riding a sense of optimism from reports suggesting the COVID-19 caseload in Europe appears to be slowing, some models looking at the U.S. death toll appear to be improving, and some budding hope from NIAID Director Fauci that the caseload in the U.S. might start showing signs of flattening after this week.
It's all conditional, but in an environment where pessimism and dour forecasts have reigned supreme, it's a welcome change in tone and the precipitant for the relief rally that will be seen at the open.
Currently, the S&P futures are up 93 points and are trading 4.0% above fair value. The Nasdaq 100 futures are up 283 points and are trading 3.9% above fair value. The Dow Jones Industrial Average futures are up 777 points and are trading 3.9% above fair value.
Investors will take what they can get, but if last week's performance was any indication, there is bound to be some skepticism that the sustainability of the rally effort can be taken for granted.
Recall that last week began with a 3.4% gain for the S&P 500, and yet the S&P 500 still closed the week down 2.1% as COVID-19 and economic growth concerns increased as the week progressed.
Notwithstanding this morning's positive bias, no one is sounding an all- clear signal and for good reason.
It isn't all clear.
A lot of uncertainty remains with respect to the COVID-19 trajectory and there are a lot of problems still to contend with that won't be settled quickly or easily.
Delta Airlines (DAL) is a guidepost in the latter respect, saying it expects its second quarter revenue to be down 90%!
Separately, Russia and Saudi Arabia still aren't on the same page with plans for an oil production cut; House Speaker Pelosi and Senate Leader McConnell reportedly aren't on the same page with respect to additional stimulus measures; and the mortgage industry is struggling to deal with the tattered page it is on as it simultaneously grants forbearance requests and continues to pay holders of mortgage-backed securities.
This doesn't seem to be mattering much this morning, however. It's all being tabled for the time being given that the headlines surrounding the most important issue for the market right now — COVID-19 — sound enticingly upbeat.
Alas, a sentiment switch has been flipped back on for market participants even if an economic switch hasn't. That will be good enough for big gains at the open and possibly a very good Monday altogether to start a week that will end with Good Friday.
In this week's note we'll look to the future, but first, let's review last week in the markets.
Week In Review: Market retreats as COVID-19 and growth concerns increase
The stock market had its good days this past week and its bad days. Unfortunately, the losses on the bad days outweighed the gains on the good days, so it was a losing week overall for the major indices.
The small-cap and mid-cap stocks were the hardest hit, yet the large-cap stocks also felt their share of pain as investors sold into recent strength, unnerved by the expanding economic, medical, social, and psychological impact of COVID-19, as well as misgivings about the U.S. economy's rebound potential.
Oil prices jumped off the chart as one of the few winning standouts, soaring as much as 35% on the back of reports that Russia and Saudi Arabia could be close to agreeing to a production cut soon to stem the slide in oil prices. That speculation triggered a short-covering rally that translated into a rare week in which the energy sector (+5.4%) stood out as the best-performing sector.
The weakest areas were the utilities (-7.1%), financial (-6.8%), real estate (- 6.2%), consumer discretionary (-4.7%), and industrials (-4.5%) sectors. The stock market overall had a generally risk-averse mindset, evidenced by the outperformance of the consumer staples (+3.5%) and health care (+2.0%) sectors. The latter was underpinned by news out of Abbott Labs
(ABT) early in the week that it has launched a point-of-care test that can detect COVID-19 in as little as five minutes and word from Dow component Johnson & Johnson (JNJ) that it identified a leading COVID-19 drug candidate that could be ready for human clinical studies as early as September.
Those positive developments notwithstanding, COVID-19 concerns soon ramped up again following a contention from members of the White House coronavirus task force that there could possibly be anywhere between 100,000 and 240,000 deaths in the U.S. linked to COVID-19. The latest data from Johns Hopkins show 6,921 deaths in the U.S. so far.
That sobering contention coupled with President Trump's observation that the next two weeks could be a "very, very painful" time for the U.S. caused some mid-week pain for the market that culminated with a 7.0% decline in the Russell 2000 on Wednesday alone.
The real pain, though, was seen in the labor market. Weekly initial jobless claims soared to a record 6.648 million, bringing the two-week total for jobless claims to 9.989 million. Those claims, however, were largely absent in the March employment report, which was based on the employment survey conducted the week of March 12. Even so, it was noted on Friday that nonfarm payrolls declined by 701,000 positions in March and that the unemployment rate increased to 4.4% from 3.5%.
In actuality, the unemployment rate is probably closer to 10% at this juncture. That thought kept the market in check on Friday along with increased concerns that the V-shaped economic recovery many are hoping for won't be seen.
The arbitrary decision by states to issue stay-at-home orders, reports of confusion involving the application process for obtaining small business relief under the CARES Act, retailers extending store closures, airlines
cutting capacity further, and reports discussing a second wave of COVID- 19 cases popping up in China were other factors that exacerbated concerns about the U.S. economy's rebound potential.
The underperformance of the small-cap and mid-cap stocks, which have a predominately domestic orientation, stood out as a manifestation of those concerns.
Was there a silver lining in last week's market?
The Dow Jones Industrial Average fell nearly 3% this past week. We call that progress.
The first wave of the Covid-19 crisis saw investors selling anything that moves, with little regard for companies' individual prospects. The threat of the virus to people's health and the economy became very real, very fast— and gaining some liquidity seemed to be the overriding objective.
Now, investors seem to be moving on to the next stage of the coronavirus market: picking winners and losers. The correlation between stocks in the S&P 500 index has retreated from its recent near record-high levels, a sign that investors may be considering them more on their own merits. And day-to-day index volatility has fallen significantly since the Dow's three- day surge.
Investors' expectations for future moves have also declined. The Cboe Volatility Index, or VIX, tumbled 29% this past week, to finish below 50 for the first time since early March. That is still an elevated level, no doubt— but far from the string of closes in the 70s and 80s seen in recent weeks.
Overall, the Dow fell 584.25 points, or 2.7%, to 21,052.53 this past week—its calmest week since the one ended March 6. The S&P 500 dropped 2.1%, to 2488.65, and the Nasdaq Composite declined 1.7%, to 7373.08. All were
relatively small moves compared with what investors have faced since mid-February.
But individual sectors and shares still saw plenty of action—and the dispersion between the best- and worst-performers has been enormous. The most coronavirus-sensitive stocks tumbled last week: Carnival (ticker: CCL) fell 55.3%, American Airlines Group (AAL) dropped 35.8%, and Live Nation Entertainment (LYV) lost 26.1%. Any business that relies on travel or in-person contact saw its shares fall, with even greater selling for those with larger debt loads.
Yet buyers also swooped in. They focused on companies that can withstand the disruption, or whose terminal values are little affected by a recession in 2020. Shares of staples-oriented Dollar General (DG), McCormick (MKC), and General Mills (GIS) all rose at least 9.7%.
That could be a sign that the stock market has already reached an "internal low" which occurs when the intensity of the selling pressure as well as fear and indiscriminate selling reach a crescendo. While the overall market index may continue to decline, the movement of stocks within the index becomes less synchronized. Once the internal low is passed, there tends to be greater differentiation among stocks within the market, and investors start to separate the wheat from the chaff.
While anyone predicting with certainty whether the Dow or S&P 500 has already bottomed out is likely overconfident, it's a fair bet that many individual stocks have already achieved their lows. During the financial- crisis bear market, the S&P 500 didn't hit its 666-point trough until March 2009. But many individual stocks didn't go below their November 2008 lows after the most indiscriminate phase of the selloff eased. The same pattern occurred after the dot-com bubble burst.
Investors should continue looking for opportunities in individual stocks, with less worry about the kind of no-safe-haven, sea-of-red days when no company's shares are spared from steep losses. If a twice-as-high-as- forecast 6.6 million jobless claim number on Thursday didn't spook investors, the data need to get a whole lot worse than expected to see another swoon like that. And it's fair to say the market is already expecting several weeks, if not months, of grim economic news.
And with first-quarter earnings season right around the corner, it will be a chance for the winners to differentiate themselves from the losers in the coronavirus market's next phase. Investors will get a three-day weekend to prepare for that, with stock and bond markets closed for Good Friday.
We could all use the break.
When Will We Know We are Winning the War on COVID-19?
In our March 23rd weekly note ( "COVID 19 Containment – A Necessary Hit to our Economy & Investment Implications") we laid out five issues that needed resolution of, at least clarity on, before we can say that the market has established a durable bottom:
1. A stabilization or flattening out of the infection rate curve in the US
and Europe 2. Visibility on the depth and duration of disruptions on the economy 3. Sufficiently large global stimulus 4. A mitigation of funding and liquidity stresses on the global banking
systems 5. Deep undervaluation across major assets and position reduction
The most important of these factors, of course, is item #1, the stabilization or flattening out of the infection rate curve in the U.S. and Europe. Then, and only then, will we have the basic assumption on
length of time with which we can begin to understand the ultimate price tag of containment (point #2).
With respect to evaluating the longevity of this pandemic we have been watching closely the real time data being reported by the John Hopkins Whiting School of Engineering-COVID 19 Global Tracking Data. The graph below shows the global daily increase over time of confirmed COVID-19 cases. On Friday, April 3rd there were 101,527 new COVID-19 cases confirmed around the world.
I dropped that daily data into a statistical package that confirms the rate of change of new cases has decreased over the past week and a half, and regressed this data and plotted the potential path of this data based on historical infection rates shows that the global infection rate could continue to increase for another. After it peaks, we could then see a gradual daily reduction which would quicken and then finally result in a dramatic reduction of new cases equally what we experienced in early March in approximately another month thereafter.
Covid-19 Infections-Global Daily Increase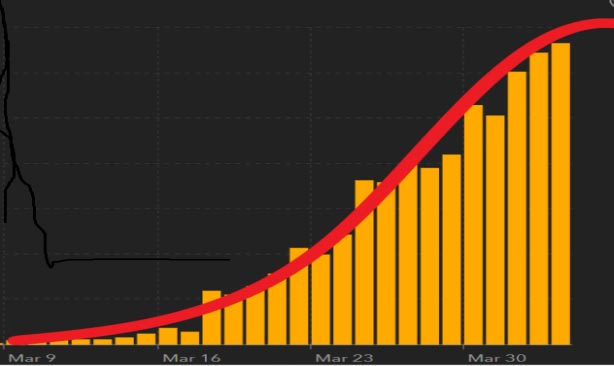 Source: John Hopkins Whiting School of Engineering-COVID 19 Global Tracking Data Benchmark Investment Advisors-Normal Distribution Overlay
Winning this war depends on our continued resolve to do the next right thing by staying at home, and our leaders continued resolve to keep those restrictions in place even after it becomes clear that we are winning the battle. If we have learned anything from past pandemics is that discontinuing containment efforts too early often leads to an echo effect and the resumption of new infection cases.
Keep Watching Governor Cuomo's News Conferences
The governor's daily news conference has become a must see on my daily newsfeed as New York City is the epicenter of this outbreak in the United States. His plain talk of unvarnished truth and leadership during this crisis has been commendable. On the occasions where the press has prodded him to become political in his comments, he has chosen the road less traveled in stating that this is not the time for political finger pointing and grand standing. We are one people fighting against a common enemy. Political divisions and agendas will have to wait for another day, and we don't have that luxury to expend energy on these political pursuits now.
You know that we are beginning to win the war in the U.S. when the Governor begins to relay information that suggests that New York City is starting the win the battle that rages in that metropolis.
Presently, the pep talk aspect of his daily news conference is filled with the necessity of resolve, the pleading for patience, and the reminder that New York City has most recently emerged from the 9/11 attack, hurricanes that devastated the Northeast several years back, and the financial meltdown of the Great Recession both intact and stronger than ever.
When the plain, unvarnished truth of the current conditions on the ground becomes its own pep talk, then you'll know that we are on our way to victory over this insidious infection.
As always, I'm available over the phone, email or Zoom conference call. Remain diligent in your safety efforts and stay well.
Warm regards, John