John P. Swift, CFA, CPA Chief Investment Officer
312-259-9595 or jswift@trustbenchmark.com
June 01, 2020
In the 1959 film, A Hole in the Head starring Frank Sinatra, "Ol' Blue Eyes" introduced us to the song "High Hopes" along with child actor Eddie Hodges. The song was nominated for a Grammy and won an Oscar for Best Original Song at the 32nd Academy Awards.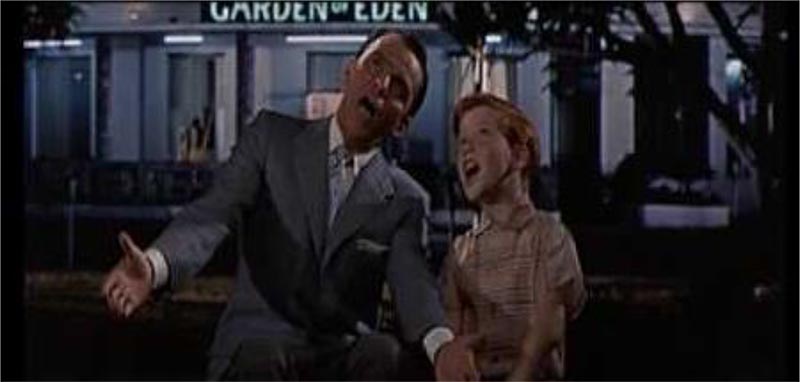 I have come to think of our present market as having "High Hopes", and I have penned an updated version of Frank's little ditty with today's hopeful investment markets in mind. If you need a refresher on the song, or just want to see the "Chairman of the Board" in his prime go here: https://www.youtube.com/watch?v=S94Bh3Qez9o
This Market Has "High Hopes"
Just what makes the market take a flyer
Investors keep thinkin' it'll go higher and higher
Anyone knows the market will have trouble
Staying at an unsustainable level
But the market's got High Hopes
It's got High Hopes
It's got high apple pie
In the sky hopes
So, any time your earnings are low
'Stead of lettin' go
Just remember the Fed
Oops, there goes another missed earnings forecast
Oops, there goes another round of free cash
Oops, there goes another illegal COVID Containment bash
But we have High Hopes!
(I will stick to my day job and leave the musical lyric writing to the pros.)
Now, those High Hopes spring eternal in the stock market, which has been flying high since March 23rd with some help from the Fed, some help from science, and some help from all 50 states implementing plans to get business going again.
In fact, there is so much High Hope in the stock market right now, you might think Wall Street has moved to some Utopian Easy Street where everything is perfect all of the time — and that's just not possible.
Tomorrow Has Arrived Today
The stock market has not ignored any of the awful economic data it has seen since March 23rd. It has paid close attention to it, but what it has not done is get unnerved by it. Instead, it has been emboldened by the notion that things are so bad, they can only get better.
The disagreement we have with this notion is the unbridled optimism that the stock market seems to be pricing in today for what a perfect tomorrow has in store. The stock market is singing the High Hopes ditty where everyone gets along in a La-La-Land kind of way and the road ahead is paved only with good intentions and nothing ever goes wrong.
The stock market is trading at 21.8x forward twelve-month earnings (44% premium to 10-yr average) at a time when more than 40 million people have lost their jobs, politics are getting nasty again, Washington is hell-bent for pandemic payback, Hong Kong is losing its independence, and the coronavirus has still not met its vaccine match.
How can the stock market be doing so well at a time like this? We alluded to it above. It can do so well because it is living in a different time. It is living in Tomorrowland where everyone is back to work and there is a vaccine. Politics, though, are still bound to be nasty in the future. Not even Frank Sinatra can fix that.
The stock market is not bothered by lousy earnings today. It is motivated instead by the earnings pickup expected next year and the liquidity support being provided by the Fed that is the bridge in the market's mind to Tomorrowland.
Valuation Matters
According to FactSet, the blended Q1 earnings decline is -14.6% versus -6.9% on March 31. The consensus earnings growth estimate for Q2 is -43.1%. For calendar year 2020, it is -21.1%. For calendar year 2021, however, it is +28.2%.
The S&P 500 has risen as much as 40% since its March 23rd low and is currently down just 5.9% for the year. What has happened in the market since March 23rd, then, has nothing to do with today and everything to do with tomorrow.
The present market valuation is roughly as high as it has been since the dot-com boom era, as some other pundits have pointed out. Still, other pundits have suggested it is not as rich as it seems when accounting for (a) the low interest rates and (b) the likelihood that estimates will be going up as the economic reopening picks up steam.
While this may be true, a 30% upward earnings revision still only gets you back to about the 10-year historical average of 16.8x. Moreover, if the economy picks up steam to the extent that consensus forward twelve-month earnings estimate would go up that much, it stands to reason that interest rates would be noticeably higher than they are today.
The Bottom Line
In sum, the valuation of Tomorrowland is riding on the notion that tomorrow will look good in a La-La-Land kind of way where everything is back to normal and things are running smoothly.
That just might be a bridge too far to the future, though, knowing how deep the job losses run, how disruptive COVID-19 has been to the global economy, how fractious U.S.-China relations are becoming (again), and how the upcoming election in the U.S. is shaping up to be a nasty display of partisan politics that could possibly end with a change in leadership that favors higher taxes. One cannot dismiss the risk either that there will be another debilitating flare up of COVID-19 cases in the fall and winter without the benefit of a vaccine with proven efficacy and safety.
A whole lot must go right to get to Tomorrowland, yet the stock market has not accounted for much of anything going wrong. It has been living in its own Utopian Kingdom where problems have been washed away by the Fed's fire hose of liquidity, where everyone's dreams come true, and where everything is perfect on Main Street.
The real Main Street is a long, long way from being perfect, in fact, it is burning today in Chicago, and that's why we think the stock market, which has come a long way from its March 23rd low, has priced in more recovery credit than is due in a world destined, in our view, for a bumpy recovery ride.
Fiscal & Monetary Stimulus Masking Real Problems
The true economic fallout of COVID-19 is being masked by stimulus payments, but those are due to expire soon. If there was one theme from various company presentations this past week it was the importance of US fiscal stimulus, specifically the one-time payments along with federal unemployment benefits. Management teams cited these more than anything for the rebound in activity. Bank America's CEO Moynihan said checking account customers with average balances of $5K or less actually have 30-40% more money now than they did 12 weeks ago thanks to stimulus payments. This means credit quality could weaken meaningfully beginning in August unless Congress takes further action in its 5th stimulus bill either extending the federal unemployment benefits, sending out another round of checks, and/or paying "back-to-work" bonuses.
There has been significant improvement in the macro environment since March, but I feel this is more than priced in at this point by paying a maximum multiple on fully recovered earnings.
US vs China
US-China-Hong Kong tensions continue to tick higher, but markets do not seem to care at this point. China passed the Hong Kong National Security law this week, as was widely expected, and the State Department on Wednesday said it no longer considers Hong Kong autonomous from China; media reports suggest the White House is considering additional retaliatory measures against Beijing but it isn't clear when those will hit.
High Hopes and higher valuations do not necessarily beget lower prices immediately. There needs to be a catalyst to change the mood of the market, and U.S./China trade tensions lead our list of likely candidates for dashing the market's High Hopes.
Valuation Oddity: Zoom vs the Airline Industry
For anyone working from home, video conferencing capabilities such as Zoom have been their lifeline to the outside world and have provided the best way to keep in touch with clients, suppliers, friends, family and co-workers. As a result, the stocks of these video conferencing companies have taken a dizzying ride through the stratosphere of valuation. On the graph below, we show that the market capitalization of Zoom is now worth more than the top seven airline companies combined. Now, that's High-Flying Hopes!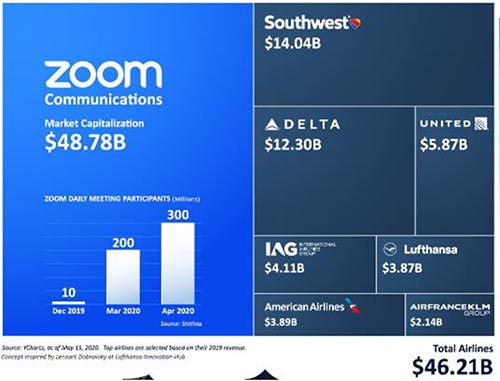 Information Technology & Consumer Discretionary Lead the Charge
We have been writing about the leadership in market returns provided by the Information Technology (IT) and Consumer Discretionary sectors, and the graph on the following page shows just how the IT & Consumer Discretionary sectors have taken divergent paths away from the rest of the market since the beginning of April.
Again, just because you are highly priced, does not mean that you are going to imminently lose your leadership position. However, the risk of mean reversion looms larger with every divergent move among these sectors, and we have been trimming some of our most successful positions in the IT and Consumer Discretionary sectors based on what have become, for some of our successful IT positions, untenable valuations.
Next Webinar
We are planning our next webinar that will introduce the capabilities of our Personal Financial Website that we have made available to all our clients. An invitation to this informative webinar will be coming to you shortly, and we look forward to presenting the important financial planning, investment analysis, budgeting and financial document storage capabilities of this free software tool.
Catching Up
We look forward to catching up with each of you, and we will be reaching out to schedule a time to meet over the phone or by a Zoom video link. In the interim, if you would like to get something on the calendar, please send me a note with some dates and times.
Warm regards, John